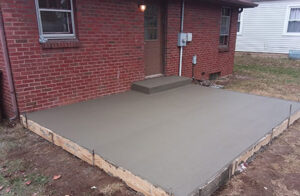 PATIOS
Upgrade Your Yard with a Concrete Patio in Columbus, Indiana
If you are planning on adding a concrete patio in Columbus, Indiana, to provide additional space for relaxing and entertaining guests outdoors, consult with JB Concrete Finishing and Excavating for an abundance of options in color and texture. We even offer custom designs for your new patio.
We are more than willing to work with you on your home improvement project. Your service options include:
Installing a New Concrete Patio
Removing & Replacing the Existing Concrete
Resealing the Existing Concrete through Patio Resurfacing
Plan to Make Your Patio Amazing
You have a vision for your backyard patio, and we want to bring it to life. We're here to provide you with the design and construction equipment, while working within your budget. From selecting a classic patio design to dressing it up with decorative concrete, we will make it happen.
Many of our customers like to add a little color and/or texture to their space to provide a more festive atmosphere. With a few pieces of outdoor furniture, you have the perfect place for outdoor entertainment. Reach out to us for design ideas for your new patio.
Custom Design for Beauty & Appeal
We have poured many patios over the years, but the biggest difference is today's patios are just as stylish as they are functional. Choose from the following designs for your next patio in Columbus, Indiana.
Surfaces—Would you like a gorgeous patio design for your backyard? We recommend impressing your guests with a stunning surface, such as:

Exposed Aggregate—All the little stones that form the filling in the concrete are beautiful when exposed and polished. This creates a patio that boosts the appeal and value of your property.
Stamped Concrete—Our skilled craftsmen can stamp patterns in the concrete, so it resembles tile, brick, or natural stone. Add a little color for realistic results.

Colors—Your patio doesn't have to be the color of concrete unless that's the way you want it. We have a whole palette of handsome hues from which you can choose. Color the entire patio or select an attractive shade to serve as a border.
Finishing Touches—Take the patio from plain to pretty with help from our crew. Which finish do you prefer?

Broomed—Make this space safe with a non-skid surface. Using a broom to create texture provides traction, as well as visual appeal.
Mag Swirl—Regular concrete becomes interesting with half circles of swirls fanned into the surface.