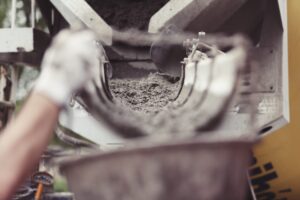 Foundations
Commercial & Residential Foundation Contractors in Columbus, Indiana
Let our team pour the foundation for your house or business when you are ready to start building. We have experience working as commercial and residential foundations in Columbus, Indiana. Our well-earned reputation for quality and craftsmanship along with our competitive pricing and reliable service makes JB Concrete Finishing & Excavating the go-to choice for all of your cement needs.
JB Concrete specializes in residential and commercial construction. Turn to us for everything from decorative concrete for your patio or driveway to structural concrete for your business. We have a well-earned reputation for quality craftsmanship, reliable service, and competitive pricing. Reach out to us for a quote to build a foundation for your new home or business building.
We Do all types of concrete foundations:
Basement
Pole Barns
Room Additions
Sheds
Garages
New Home
New Business
Concrete Slabs
Which Foundation Type Is Right for Your Project?
From our decades of experience, we've seen proof positive that poured concrete is the ideal building material for foundations. This type of foundation is many times stronger than concrete block. It resists water better and offers greater protection against fire. For solid, durable, and low-maintenance building projects, choose poured concrete as the base.
Discover the advantages of the two types of foundations below that our team works with:
Slab-on-Grade Foundation—We pour a concrete slab several inches thick over a bed of crushed gravel. The slab is thicker at the edges to form the footing. Our crews use reinforced rods to strengthen the edges. We adapt this type of construction to areas where the ground freezes by using insulation.
T-Shaped Foundation—This traditional form of foundation is designed with below-freezing temperatures in mind. We place the footing deeper than the frost line with the walls on top. The T-shape results from pouring the footing wider than the wall for extra support. With this foundation, we pour the slab last.
Talk with us about which option best serves your building needs. Our skilled, knowledgeable, and experienced craftsmen work with you to lay a foundation that is strong and long-lasting.
From Underpinning to Walls & Overlays
Concrete is an essential building material for most any type of construction. From foundations to walls to fireplaces, we pour concrete to create stability and longevity. Our craftsmen can strengthen a foundation with underpinning or provide you with concrete room additions. Another area where concrete excels is in walls of all types, such as:
Tall Walls
Retaining Walls
Form-Lined Walls
Landscape Decorative Walls
Board-Formed Walls
Concrete also stands out in decorative applications such as, adding a form liner to new retaining walls and vertical concrete overlays to enhance the appearance of an existing wall. Our trained team will help you with your concrete project.